Decrypt_GCReadHandler Class Reference
Decrypting GCReader handler. More...

#include <crypto_asdcp.h>

Inheritance diagram for Decrypt_GCReadHandler: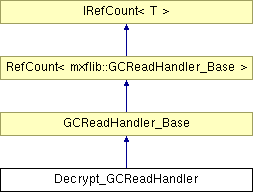 List of all members.
---
Detailed Description
Decrypting GCReader handler.

Passes data straight through to the output file - either decrypted by Decrypt_GCEcryptionHandler or not encrypted in the source file
---
Constructor & Destructor Documentation
Don't allow standard construction.
Construct a test handler for a specified BodySID.
---
Member Function Documentation
Handle a "chunk" of data that has been read from the file.
Returns:

true if all OK, false on error
Implements GCReadHandler_Base.
Set an index table to update with new byte offsets.
---
Member Data Documentation
GCWriter to receive dencrypted data.
Index table to update (or NULL if none).
Current edit unit for indexing.
---
The documentation for this class was generated from the following file:
---
Generated on Mon Apr 2 15:20:56 2007 for MXFLib by

1.5.1-p1